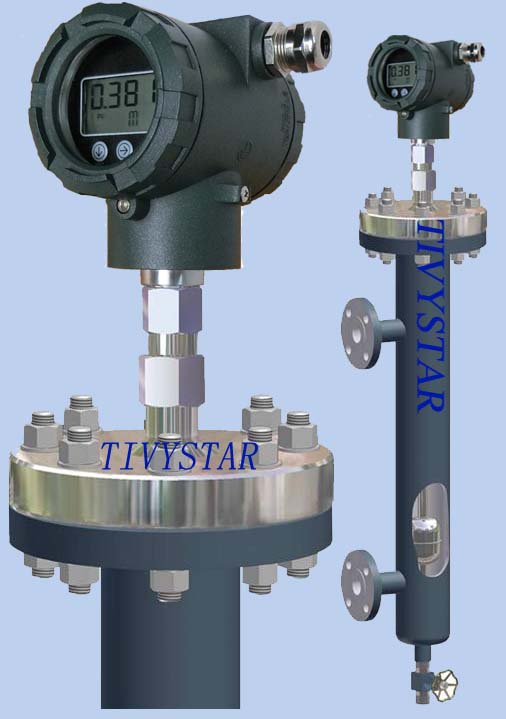 TM6 series magnetostrictive level transmitters can measure liquid level, interface level, and temperature at the same time. TM6 is designed according to the magnetostrictive principle, which is a highly accurate, respond fast, good reliability, long life, maintenance free, smart level measuring instrument because the gauge can′t be effected by pressure, temperature, dielectric coefficient and so on. Magnetostrictive level transmitter is widely used in the applications of petroleum, chemical, food , water treatment, food processing, pharmacy, tanks management, etc.
TM6 MLT can adjust null point and range remotely because of its HART or RS485/MODBUS protocols. Parameters including units, display upper/lower limits, damping, shift correction, correcting upper/lower limits, D/A trimming correction, restore factory setting and so on, can be configured through three buttons in cases and LCD.
Features
  ※ two-wire system 4-20mA with HART
  ※ both zero point and range can be adjusted remotely and locally
  ※ self-diagnosis and fault output alarm
  ※ Non-volatile memory to prevent data loss
  ※ Good stability, simple installation, maintenance free, low cost
  ※ Measure liquid level, interface level and temperature at the same time
  ※ Optional lightening integrated connecting terminal
  ※ Multifunction LCD field indicator
  ※ The whole explosion proof design, explosion proof screws lock cover
  ※ Double grounded junction port inside or outside to field ground
  ※ Outside hang-tag hole
  ※ Prompt with junction port on meter case (field terminals )
Technical performance
  Range: rod type , 0.1~5m; soft cable type, 0.5~20m
  Accuracy: ±1mm or 0.1%, take larger value among the two
   ±2mm or 0.2%, take larger value among the two
  Resolution ratio: 0.1mm
  Medium: any kinds of liquid which can compatible with probe material
  Work pressure: -0.1~32Mpa
  Work temperature: -40~85℃, -20~70℃ with LCD
  Medium temperature: -40~100℃, -40~200℃ with high temperature type
  Medium density: 0.5~2.0g/cm3
  Medium viscosity: ≤0.8Pa·S
  Stability: ±0.1%FS/year
  Temperature coefficient: 0.1%/10℃ in range of environment temperature
  Power supply: 9~45V DC, usually 24V DC
  Output signal: 4~20mA+HART protocol or RS485
  Maximum load: 50×(power voltage-9)Ω
  Damp: adjustable among 0.2~32s
  Dead zone: upper dead zone 50mm; lower dead zone 50mm
  Power effect: 0.005%/V of the output range
  Humidity effect: no effect in 0~95% relative humidity
  Vibration effect: in the condition of 200Hz, the deviation is less than 0.1%/FS/g
  Outer shell: die casting aluminum with epoxy spraied or stainless steel
  Protection level: IP68 for probe, IP65 for gauge head
  Explosion-proof: explosion-proof: dII BT5; intrinsic safe: ia II CT6
  Field indicator: multifunction LCD digital indicator
  Electric interface: M20×1.5 female thread or 1/2〃NPT female thread
  Process connection: DN50、DN80、DN100 or M18×1.5, M20×1.5 or 3/4″NPT male thread, or customized and so on
  Rod material: 304, 316L, PP, PVC, PTFE
  Float material: 316L, PP, PTFE
  Ground: the outer shell should keep good connection to tank wall and ground
note: the prices will be different with different matches.