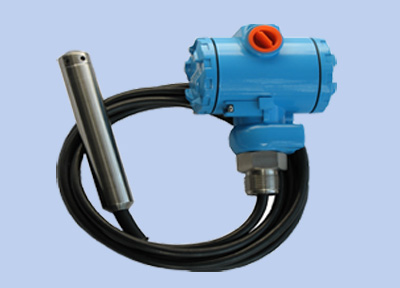 TV815 is two-wire system , static pressure liquid level transmitter. It uses imported silicon piezoresistive sensor which has featured as high performance and reliability, matched with special integrated circuit and strict process flow, is strong in anti-overload, high precision and reliability. TV815 has multiple protection to prevent surge voltage, RF interference, over-voltage, reverse power protection to insure the high reliability. TV815 can be widely used for unsealed fields or open containers. For example dams, power generation plants, high-rise towers, cooling towers, wastewater tanks, pumping stations, water factories, hydrogeololgy, petrochemical, stream surveillance, and so on.
Features
  * two-wire system
  * long term good stability
  * anti-corrosive and humid proof
  * install easily
  * throwing-in structure, tiny appearance
  * optional LED indicator

Technical performance
  Range: 0-1m~100m
  Accuracy: 0.2%; 0.5%
  Medium: liquid that is compatible with 316L, 1Cr18Ni9Ti, butadiene acrylonitrile rubber, fluorine rubber, polyurethane
  Overpressure limit: 3 times of user's range
  Compensation temperature: -20℃~80℃
  Work temperature: -40℃~85℃(gauge shell works in temperature from -20℃ to 70℃)
  Temperature coefficient: 0.15%/10℃ in the range of temperature compensation, suitable for zero and full span.
  Stability: ±0.2% FS/year
  Power supply: 12~36V DC, 15~36V DC with LED, usually 24V DC
  Output: 4~20mA DC
  Maximum load: 50×(power voltage-U)Ω,U is 15V with LED display, usually is 12V.
  Start time: 2senconds, no preheat
  Position effect: zero position change ≤0.1% under the condition of deviation from 90°in any direction
  Vibration effect: <0.1%FS under the condition of 20~2000Hz for 10g peak value
  Humidity effect: no effect in the range of 0~95% relative humidity
  Protection level: IP 65
  Field indicator: 31/2 LED display
  Electric port: M20×1.5 female thread
  Process connection: M27×2 male thread
  Weight: 1.5kg
  Appearance structure and material
  Gauge shell: die casting aluminum with epoxy spraied
  Cable size: Φ8.5 ship's class air venting cable made of polyurethane
  Probe material: stainless steel of 1Cr18Ni9Ti , Φ24×146
  Sensor diaphragm: 316L stainless steel
  Sealing part: O ring made of butadiene acrylonitrile rubber, fluorine rubber

Applications
  *tank
  * water supply system
  * waste water system
  * metallurgy mine
  * checking system
  * petrochemical
  * hydrogeology
  * hydro - electric – power
  * Reservoir and tank farm