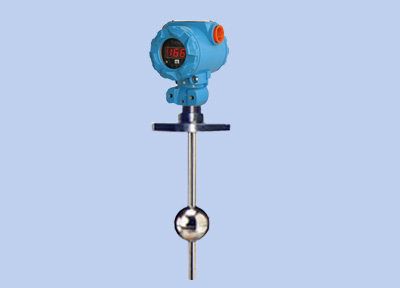 UHS magnetic float liquid level transmitter can measure liquid level or interface continuously. The differential density of the two kinds liquid isn't less than 0.1g/cm
3
when the interface is measured. UHS transmitter transfer the level information to standard 4~20mA.DC current signal to output. If matched with CH series digital display alarm device, UHS can support the remote measurement, adjustment, control, or alarm of liquid level and interface in petroleum, chemical, textile, food, making wine, electric power, pharmacy, shipping, and water treatment etc..
Features
*Two-wire system
*Simple structure and reliable performance
*Simple installation and convinent maintenance
*Resistance to corrosion and moisture resistance
*Optional LED digital field indicator
Work principle
UHS magnetic float liquid level transmitter is based on the rules of buoyancy and magnetic coupling. As the liquid level rises or falls in the vessel, the power of permanent magnet in the float actuates reed switch in chief rod to close the reed switch in responding position. Electrical signal proportion to liquid level can be got , and transferred by circuit to standard 4~20mA DC signal.
Technology performance
Range: L=300-3000mm
Accuracy: ±10mm
Power supply: 12~36V DC, 15~36V DC with LED, usually 24V DC
Output: 4~20mA DC
Maxim load: 50×(Power-U)Ω,U=15V with LED,usually 24V DC
Medium density: 0.5~2.0g/cm
3
Medium viscosity: ≤0.8Pa·S
Work temperature: -40~85℃(-20~70℃ with LED)
Work pressure: normal pressure -4.0MPa, the pressure is not more than 0.6MPa with PVC material
Humidity effect: no effect in 0~95% relative humidity
Outer shell: die casting aluminum
Protection level: IP65
Field indicator: 31/2 LED digital indicator
Electrical interface: M20×1.5 female thread
Flange connection: PN0.6, PN1.6, 2.5MPa, HG20592-97, more than DN80; Other flange size such as GB, HGJ, and ANSI need to have Special instructions.
Explosion-proof: explosion-proof: dII BT5; intrinsic safe: ia II CT6
Float material: 1Cr18Ni9Ti, PTFE, PVC